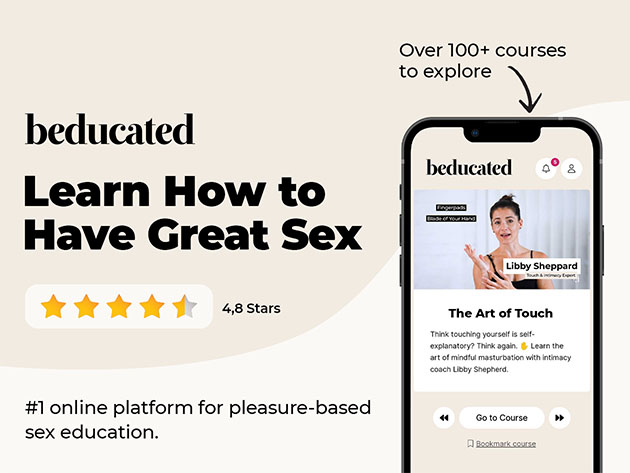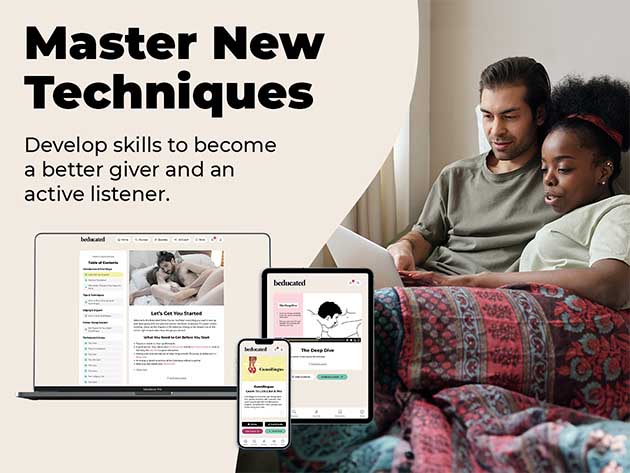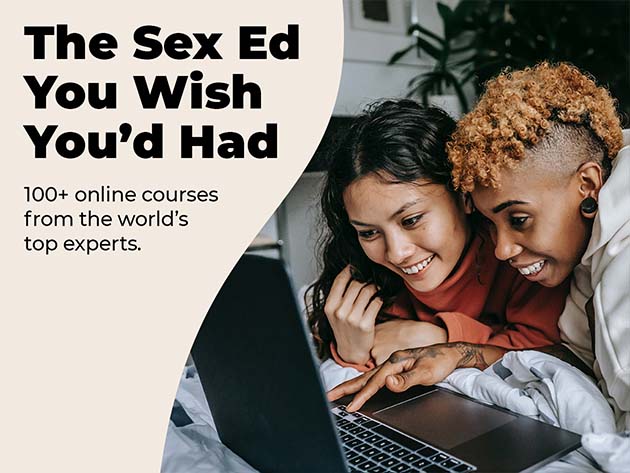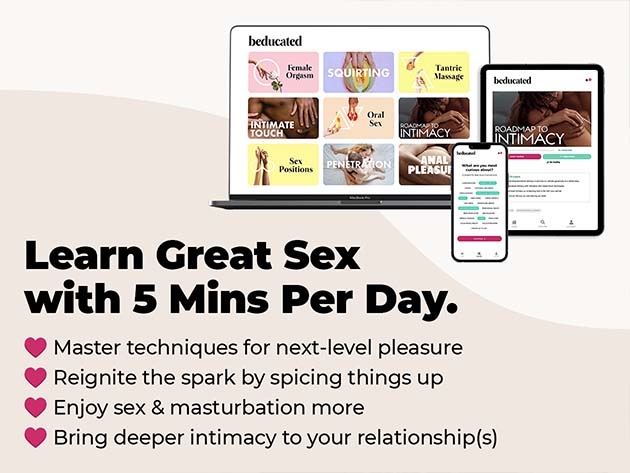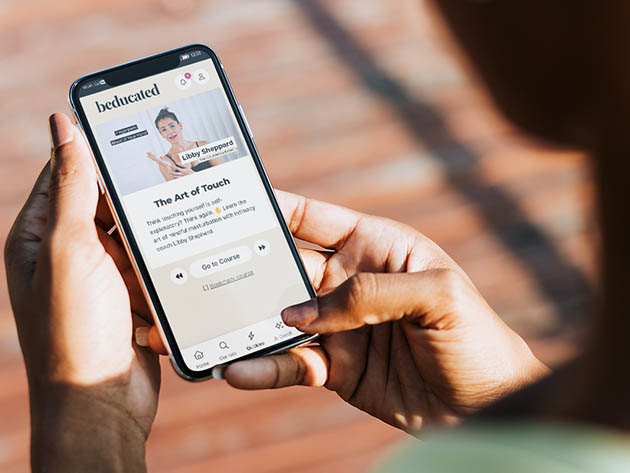 Beducated: Lifetime Subscription
by Beducated
Access 100+ Online Courses on Techniques, Kinks & More Pleasure-Based Content to Spice Things Up!
Description
Learn About Pleasure With Beducated Lifetime Deal
Learn how to have great sex with Beducated, the #1 online platform for pleasure-based sex education. The extensive library boasts 100+ online courses on everything from basic oral sex guides to rope-bondage tutorials, all produced by the world's top experts.

As the biggest sex ed resource in the world, Beducated is empowering tens of thousands of grown-ups to master new techniques, enjoy sex more, and build confidence.

According to the WHO, sex ed is a critical pillar for sexual well-being and plays a vital role in human overall health. Traditional sex ed sidesteps pleasure when it actually should embrace it. Beducated is flipping the narrative on its head, ensuring everyone understands that pleasure isn't just a bonus—it's a fundamental right.
Featured on Beducated
Expert-backed insights. Draw from a vast library of intimacy courses to provide expert-backed information & guidance
AI-driven responses. Leverage large language models to generate thoughtful & helpful responses to your queries
Privacy-centric approach. Ensure complete user confidentiality by storing data solely on the user's local device
Learning more about sex at any age can lead to the following benefits:
Master new techniques. Develop skills to become a better giver and an active receiver
Enjoy sex more. Experience mind-blowing pleasure & discover new ways to spice things up
Build confidence. Become a skillful lover for confidence in the bedroom & beyond
Communicate better. Open up to your partner(s) about sex, boundaries, & desires
Beducated works with the world's top experts in sex to produce reliable content that's easy to follow. You'll take your intimacy to the next level by learning from the very best. The online platform is also a safe space for all, no matter their relationship status, sexual orientation, or gender.

Joining the Beducated Lifetime Pass means you get unlimited access to all 100+ courses on sex and intimacy for just $99.99. You'll get lifetime access to an ever-growing library for the price of 1 year.
Get lifetime access to an ever-growing library of 100+ courses
Learn new techniques for your sex life with only 5 minutes per day
Discover a huge variety and diversity of topics, something for every taste, level of experience, & orientation
Explore online courses for beginner to advanced
Get personalized course suggestions
Study wherever & whenever you want
New Beducated Account Users ONLY
Works on all your devices with a modern web browser & internet access
Beducated Reviews
4.8/5 rating on Trustpilot:

★ ★ ★ ★

★

★

9 out of 10 users say Beducated increased their sexual happiness
Cosmopolitan: "The Netflix for Sex Education."
Mashable: "People who want an extensive menu of sexy topics to dig into."
VOGUE: "Beducated promotes the awareness of sexuality."
TEDx Talk by CEO Mariah Freya: "It's never too late for good sex!".
Specs
System Requirements
Important Details
Length of access: lifetime
Redemption deadline: redeem your code within 30 days of purchase
Access options: desktop & mobile
Only available to new users
Version: any web browser
Updates included
Have questions on how digital purchases work? Learn more here
Terms
14-Day Money-Back Guarantee